Marble series
Granite series
Add: No.57, Building D, New Processing District, Southern Fujian 1st construction Material Market, Fujian Province, China
District C1, Shuitou Yixing Fine Products Market
District 6, Shuitou Dongxing Market (Mingliang Stone Industry Company)
Manager Wang: +86-18006999995
Manager Wu: +86-13599200801
Tel: +86-595-26682668
Fax: +86-595-26686886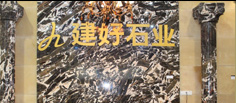 Since the establishment, our company has developed rapidly. Currently, we have multi-varieties of mine resources. Our main direct-selling product are Laetacara curviceps, graige, saussurea beige, Guizhou Wood Line, evergreen , zhangpu dark green (3# ore) and etc; in addition, we have rich resources and convenient marketing network. Base on various advantages, we have founded excellent cooperation platform! And we would like to create brilliant future together with wide customers.
Main products: Laetacara curviceps, saussurea beige, graige, white wood grain, grey wood grain, evergreen , zhangpu dark green (3# ore)
Enterprise value: concrete, integrity, professional, effective, innovative and professive
Enterprise tenet: young, innovative, responsibility, executive
Slogan: JianHao is your selection and you are our choice.